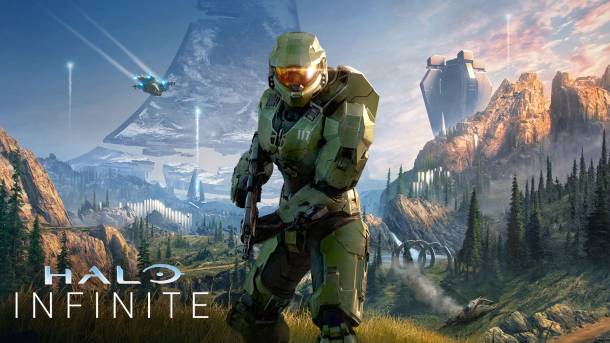 Halo Infinite developer 343 Industries hasn't shared any information about the multiplayer modes yet, but a huge leak reveals the multiplayer will be free-to-play.
A since-deleted listing from an Irish toy store claims that Halo Infinite will have "a groundbreaking free-to-play multiplayer experience."
Halo Infinite will launch alongside the Xbox Series X this holiday season.
---
UPDATE: Moments before this post was scheduled to go up, 343 Industries confirmed that Halo Infinite's multiplayer will indeed be free-to-play, just as the leak we describe below suggested:
Halo is for everyone. We can confirm #HaloInfinite multiplayer will be free-to-play and will support 120FPS on Xbox Series X. More details will be shared later! pic.twitter.com/9bIrppFiON

— Halo (@Halo) July 31, 2020
You can read on for the original story of the leak that prompted the tweet above.
---
Microsoft's Xbox Games Showcase on July 23rd gave us our first glimpse of what some of the most anticipated next-gen games look like running on the Xbox Series X , including Halo Infinite. The "spiritual reboot" of the Halo franchise was announced over two years ago, but the showcase was the first time we've ever seen the game in action. Based on the demo, the Halo Infinite campaign will be much more open-ended than in previous entries.
Halo Infinite developer 343 Industries wasn't ready to talk about or show anything from the game's multiplayer, but an Irish toy store may have spoiled a noteworthy detail about the online modes. According to a listing from Smyths Toys Superstores that has since been deleted , Halo Infinite's multiplayer will be free to play.
Today's Top Deals
Today's best deals: 3M face masks, Lysol wipes, one-day Anker sale, Purell in stock, Bose blowout, Fire TV deals, more
Trending Right Now:
'Halo Infinite' multiplayer will be free to play, developer confirms originally appeared on BGR.com on Fri, 31 Jul 2020 at 16:52:56 EDT. Please see our terms for use of feeds.
http://feedproxy.google.com/~r/TheBoyGeniusReport/~3/L5QnyC5UA88/